She Was Gang Raped at the Age of 13. Nobody Expected the True Shock Was Yet to Come...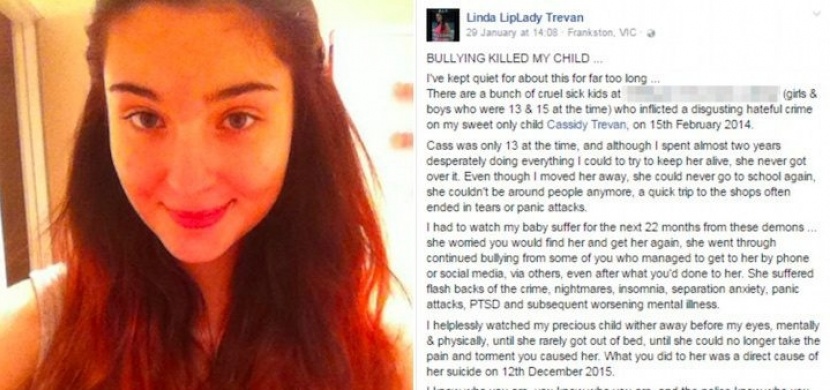 Children's bullying can be of different nature, from innocent fun to physical or mental harm. The cases of children's bullying may not always end up well because the acts, in this case really bad ones, cannot be taken back and hurt much more anyone could ever think...
Linda Trevan was a mother of a 13-year-old Cassidy who had become a school bullying victim. Day by day, the situation was getting worse and worse. Cassidy got vulgar texts and phone calls late at night almost every day. Her classmates went even so far as to publicly insult her on social media.
Linda couldn't stand this behaviour any longer and started an action. She started dealing with the school management about the bully girls' behaviour. The bully girls were forced to apologize to Cassidy. Several weeks following the incidents, during which Cassidy was undergoing a therapy to get over all this, were calm. But when Cassidy came back to school, the girls started implementing their evil plan.
On February 15, 2014, the girls invited Cassidy to a school party which was supposed to be held in the house of one of them. Back then Cassidy had no idea it wasn't a reconciliation but rather...
When Cassidy came in, she was immediately locked in one of the rooms with two 15-year-old boys who kept their promise to rape her. While Cassidy's classmates were guarding the door, the guys were savagely raping her for long hours.
After Linda had found out what horror had happened at the party, she immediately called the police. However, Cassidy was unable to talk about the incident to anybody but her mother. Her condition deteriorated rapidly after the girls who had invited her to the party started posting dirty comments on social media.
Linda had no idea how to keep on going, nobody was able to help her. Therefore, she decided to move out of the city they had been living in and start from the scratch again.
At first sight it seemed that the whole situation could have been solved by this. The story would have had a happy ending if Cassidy and her mum had been able to get over it together. Sadly, there was no happy ending to this story...
Cassidy couldn't recover from this experience. Neither therapies nor psychologist appointments helped. Linda was trying to talk to Cassidy every day to reassure her she's there for her when she needs her help. The girl couldn't eat properly, make new friends, not even live. Unfortunately, even the change of environment didn't help and almost two years after this incident, Cassidy decided to make the most horrible decision ever - to commit a suicide.
Under the weight of all this, Cassidy gave it up and at the age of 15 she decided to take her own life. And all this just because of some stupid classmates who hadn't even realized the aftermath.
Linda hasn't recovered from losing her beloved daughter yet. What she considers very important now is to help other children, especially girls who find themselves in a similar situation to her daughter's.
She also wants to show the world what these girls did and therefore she decided to write and publish a letter which you'll find on the following page: